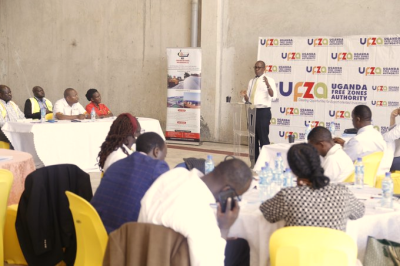 Mr. Odrek Rwabwogo addresses UFZA and PACEID teams at the Entebbe International Airport Free Zone in Entebbe 
On 29th September 2023, Uganda Free Zones Authority (UFZA) hosted the Presidential Advisory Committee on Exports and Industrial Development (PACEID), led by its Chairman, Mr. Odrek Rwabwogo, visited the Entebbe International Airport Free Zone in Entebbe with a group of potential Developers from Serbia to get acquainted with the Free Zone and explore business opportunities therein.
PACEID plays a coordination role for Ugandan exporters, producers, government institutions and other stakeholders, ensuring they work together to accelerate Uganda's exports growth and industrial development. UFZA is pivotal in this agenda given its key role of creating opportunities for export-oriented investment, export development and job creation.
Speaking at the event, the Executive Director of UFZA, Mr. Hez Kimoomi Alinda said "Uganda has 0.6% share in Africa's trade market and a 0.017% share in the global market. We must be deliberate on adding value to our resources to improve these statistics. No country can exit poverty without boosting their exports".
On his part, Mr. Rwabwogo said, "It takes a long distance to take a product from the farm to the final consumer. At each stage, there is a lot of trouble, whether in standards, pricing or infrastructure". He emphasized that the solution to this challenge is for government to be deliberate on its role as a facilitator for the private sector to thrive. "Special Economic Zones are the real deal to boost exports" he reiterated, pointing out the need to improve on packaging and branding of the Ugandan products especially so for exports.