Kampala, 17th May 2017
Uganda Free Zones Authority (UFZA) has issued two Developer's Licences to M/s Nilus Limited and M/s Uganda Wood Impex Limited today at the UFZA offices in Kampala. The companies that have been licensed are to develop Free Zones in Mukono and Kalungu Districts in Uganda.
A Free Zone is a special designated area where goods introduced into the area are generally regarded, so far as import duties are concerned, as being outside the customs territory. These include Export Processing Zones or Free Port Zones.
While handing over the Licences, the chairman Board of Directors of UFZA, Eng Dr Frederick Kiwanuka, congratulated the companies and commended them for seizing and harnessing the business opportunities that Free Zones present to the business community in Uganda.
"As the Authority is finalising the National Mapping Exercise to identify sites for the suitable location of Free Zones areas in Uganda, the companies that have been Licensed as Free Zones suit the criteria: access to raw materials, availability of infrastructure and markets among others".
M/s Nilus Limited intends to undertake Tobacco Leaf Processing export to Europe, Asia, Middle East and Egypt. The projected capital investment of the Zone is US$10,597,606 and direct employment is about 220 people. The company will also indirectly create employment to 14,500 out growers of tobacco.
"In the 1st year operation, Nilus will process only Uganda Tobacco Services Ltd 2017 crop. This accounts for 22% of the national crop", said Mr. Rob Kersall, Managing Director, M/s Nilus Limited. He further projected processing a further 60% of the crop hence creating more jobs and increasing exports since it will be exporting 100% of the processed product.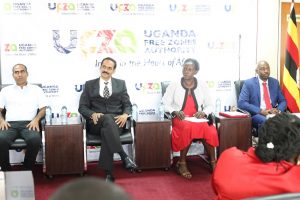 At the same occasion, another Licence was issued to M/s Uganda Wood Impex Limited which will be processing essential oils and timber for export to China, U.A.E, and India.
Mr. Dinesh Nair, the Managing Director of M/s Uganda Wood Impex Limited said, "the timber and sandalwood will be obtained from South Sudan and Democratic Republic of Congo since there is limited supply of the same in Uganda".
It will source raw materials locally and regionally. The lemon grass will be sourced from out growers from Kalungu and advanced technology in the production of the essential oils and timber.
Richard Jabo, Executive Director of UFZA said that the Authority will facilitate the company to get all clearances from the Government Ministries, Departments & Agencies with whom partnerships have already been established like URA, UNBS, URSB and others to aid in the acquisition of secondary Licences, permits and approvals.
The number of companies that have been Licensed to develop Free Zones in Uganda has now come to three (3). The first Free Zone is Arua Special Economic Zone, in Arua District owned by a Ugandan businessman, Dr. Eric Adriko.
UFZA is mandated to develop, manage, market, maintain, supervise and control Free Zones in Uganda. The Government's main Policy objective of establishing Free Zones was to promote investment in the manufacturing and processing sector in order to boost Uganda's exports.