UFZA acquired five (5) acres of land from Civil Aviation Authority CAA) for development of Free Port facilities in 2018. This is part of the Master Plan for the rehabilitation and expansion of Entebbe International Airport.
While presiding over the signing ceremony, Mr. Keith Muhakanizi, the Permanent Secretary and Secretary to the Treasury, said 'The necessary infrastructure and other administrative incentives that encourage skills and technology transfer and local economic linkages should be administered more as they contribute to lowering the cost of doing business'. This he said, in reference to the expected non fiscal incentives that will result from the partnership between UFZA and TMEA.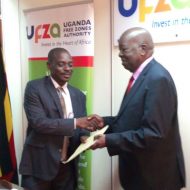 Richard Jabo, Executive Director of UFZA said that the Authority will facilitate the company to get all the necessary clearances from the Government Ministries, Departments & Agencies with whom partnerships have already been established like URA, UNBS, URSB and others to aid in the acquisition of secondary licences, permits and approvals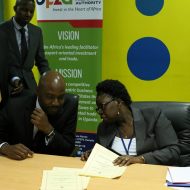 UFZA, URA PARTNER ON TRADE FACILITATION IN FREE ZONES
Uganda Free Zones Authority (UFZA) and Uganda Revenue Authority (URA) recently signed a Memorandum of Understanding at the URA Head Office in Nakawa, Kampala.