The location of Uganda, coupled with the relative stability that the country has enjoyed over the past 30 years makes Uganda a gateway for regional trade and investments into the East African sub region. The economy of Uganda has experienced a steady and positive growth as a result of policy reforms. This has led to improved macroeconomic performance and created a conducive environment for business. These reforms have been characterized by reduction in inflation, fairly stable exchange rates, relatively low interest rates and economic growth. FDI inflows to Uganda rose for the third year running by 92 % hitting a record high of US$ 1.72 billion, making Uganda the highest FDI recipient in the EAC Region in 2012 (World Investment Report 2013).
Export Opportunities in COMESA Region
The Common Market for Eastern and Southern Africa (COMESA) is a Regional Integration grouping of African States which have agreed to promote regional integration through trade development and to develop their natural and human resources for the benefit of their people.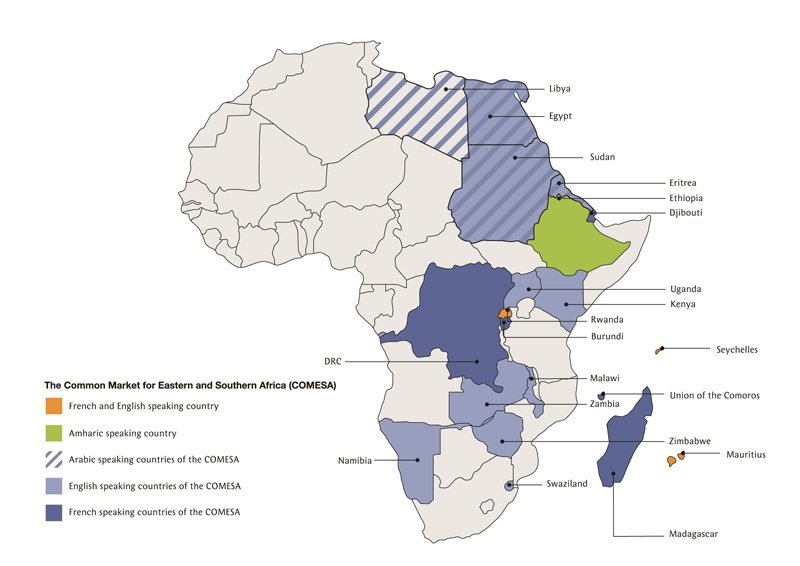 COMESA MARKET
19 member countries
400 million people.
Source: www.comesa.int/
Regional Market populations
Uganda – 35 million
East Africa – 145 million
Great Lakes Region – 300 million
Preferential access to global markets
The US market under African Growth and Opportunity Act (AGOA)
The European Union (EU) market under Economic Partnership Agreement (EPAs)
China – Preferential Treatment of Exports
The Generalised System of Preferences (GSP)